If you look at the variety of lights around you, you will have plenty of options to look forward to.
Especially if you have seen an LED strip light, you must like how they appear upon being lightened.
Nobody can deny the popularity of RGB strip light, but are you aware of RGBIC light as well?
If you are unaware of RGBIC and confused about the difference between RGB and RGBIC, you have landed at the right place.
This guide below features extensive detail about these two lights, how they work, and what key differences exist between them.
So, let's walk through the details shared below.
A brief introduction to LED Strip Lights:
As the name suggests, LED strip lights contain a strip of LED light used for various purposes.
These may serve something other than the lightning purpose. However, they are used for decoration purposes.
These lights offer a flexible surface that can easily be attached anywhere when needed and represent different tones of white.
They are commonly used in parties, walkways, staircases, cars, and other decorative purposes.
These LED strip lights also contain a remote control through which they may be turned on and off. They are suitable for indoor and outdoor use without causing much trouble.
What is RGBIC Strip Light?
RGBIC is an LED strip light that comprises multiple ICs, also known as integrated circuits, over the entire strip.
Due to these multiple ICs, these could display multiple colors at a time.
Every segment of the strip will have a separate IC; that particular segment will represent the color it is controlled with, and another segment will depict the other color.
The main advantage of this strip light is that it represents a different color independent of the other segments.
The RGBIC strip light has many other names, like pixel-led or digital-led strip light. The digital led strip light has different segments, and each segment may depict a different light color depending on its IC.
These lights are convenient and have several features that make them suitable for various applications.
These can be controlled the way you want and are waterproof. Therefore, if you install them outdoors, you do not have to think much since they will only wear out.
However, some offer the option of dimming so, if you wish to dim these lights.
You can have customized colors for these strip lights, which will help you enhance the areas where they are used instantly.
In addition, depending on the IC type, these lights could be divided into two kinds: DMX LED strip light or SPI LED strip light.
DMX LED strip light is based on the mechanism of communication networks based on digital phenomena controlling the lights. It comprises parallel signal transmission and contains unified ICs.
The ICs used in the DMX strip light are based on standard international protocols. Even if DMX uses different ICs, the protocol will be the same.
Due to the unified ICs, it is capable of covering indoor lighting as well as outdoor lighting and covers a vast area. It is expensive and comprises complicated wiring, but the results are quite appealing.
On the other hand, SPI LED strip light comprises signal transmission in series synchronization and covers a smaller distance.
These have easy wiring and are suitable to cover a smaller area which may be a small indoor room.
However, in the case of an SPI LED strip light, the ICs are not based on standard international protocols.
Therefore, for every different manufacturer of this light, other SPI controllers are needed that match the protocol of the particular IC.
When To Use RGBIC Strip Light?
You have gone through what actually RGBIC strip light is and hence must also be aware of the functioning of this light.
Now when you use this RGBIC strip light must be a question in your mind, and we have discussed below the instances where using this light could be a great idea.
Decorating Your Art Piece
If you have worked hard on an art piece, you must also wish to have it displayed prominently so that everyone may look at your efforts.
Adding an edging of the RGBIC strip light may be a good idea to enhance your artwork or make it visible.
Although other lights, like RGB strip light, can be used for such decoration, the way RGBIC enhances the colors by blending the shades of artwork is something that RGB cannot do.
Choosing LED neon light strips is also a great idea to add a neon-colored touch around your artwork that will make it attractive at first glance.
Neon lights are of such nature that from a distance, they can even attract people.
Adding Spark to the Staircase
Every house has a staircase, and some people wish to enhance their staircase by adding brightness.
If you are looking forward to enhancing your staircase, you can also choose to have RGBIC strip lights introduced on the stairs.
You can choose different colors for different steps by selecting RGBIC and even different tones for the different hours of the day.
During the day, you can opt for cooler tones, and at nighttime, you can choose warmer tones.
Adding Life to Dark Corners
Whether it is about your living space or business premises, such corners will need more light and appear dull.
You can opt for these RGBIC strip lights to add brightness to such corners.
You can choose suitable colors according to the space's etiquette because there are already so many color options available.
Add Light to Your Drawers and Wardrobes
You can also opt for an RGBIC light and add some lights to your drawers and wardrobes.
You can easily enhance the appearance of the drawers and closets, and even looking for your stuff becomes easier this way.
This is an excellent idea if you want unique experiences with your stuff.
What is RGB Strip Light?
The RGB strip light is a series of LEDs in the form of strips.
As the name suggests, this light represents the three primary colors red, green, and blue.
Besides these colors, light may also represent other colors by combining the three primary colors, magenta, yellow and white.
These lights have a remote control that can be used to operate them. However, these lights represent just one color at a time.
For instance, if you have chosen the red color, the entire strip will depict red light and no other color.
When To Use RGB Strip Light?
RGB strip light can be used in many places, and the best part is that it can also represent neon colors.
By choosing the LED neon light, you can enhance the appearance of anything you want in just an instance.
There are many ways in which you can use RGB strip light, and some of these are discussed below:
If you find the wall panels of your house dull, you can choose to have an RGB strip light.
These lights will make the panels prominent to make your home appear aesthetically appealing.
Usually, wall panels are lit with just one color; hence, RGB is a better choice than RGBIC because multiple light colors are unnecessary.
If you want to add a subtle look to your ceilings, you can add RGB lights in your living room and bedroom.
The lights could be brighter but sufficient to add life to the rooms and are also very decent in looks.
You can also play with these lights, choosing various shapes and using multiple ideas that will improve the interior design of your room.
Adding Light to the Shower Area
You can add some light in the shower area of your bathroom with the RGB lights.
In this case, it is not recommended to choose RGBIC lights because they are brighter and offer multiple color tones at a time, which is not suitable for the shower area.
Lighting up your Headboard
If you wish to have something other than table lamps next to your bed yet need some light, choosing to have the RGB strip light around your headboard is a good idea.
These lights are neither too dull nor so bright that they could cause your eyes to feel irritated.
Key Difference: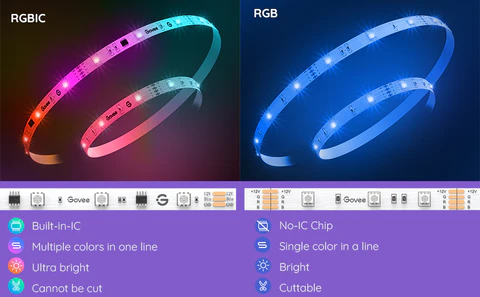 You must have understood what an RGB is and what an RGBIC strip light is; however, there is more than one difference between the both in terms of multiple light options.
There are many other differences, too, and we have highlighted them below:
| | |
| --- | --- |
| RGBIC Strip Light | RGB Strip Light |
| RGBIC strip lights contain integrated circuits. | RGB strip lights do not contain any integrated circuits. |
| They have segments representing different ICs so different colors can be displayed on each segment. | They don't have segments, and just one color can be displayed at a time. |
| RGBIC allows the creation of various designs and patterns out of different colors. | RGB strip lights are straightforward and do not possess any such design creation abilities. |
| You should not cut down the RGBIC lights as this might damage them because of the integrated circuits and segmentation. | RGB strip lights can be cut down, and more strips can be added if required. |
| RGBIC strip lights are expensive lights. | RGB lights are relatively inexpensive. |
Which One is Better?
Choosing between RGBIC and RGB might be a challenging task for you.
We cannot say that one particular kind of light is better. It depends on where and why you need to use these lights and whether they suit each case.
If you want brighter tones and to enhance the corners in your premises, you can opt for the RGBIC strip lights.
Also, if you wish to have multiple colored lights, you can choose them as they give you more control over the color tones compared to the RGB strip lights.
However, if you want to have warm tones and single light, preferring a subtle and sophisticated look, then it is suggested to opt for the RGB light.
Also, these are cheaper, so depending on your budget, you can decide accordingly.
How To Choose the Right Manufacturer?
After going through the details shared above, you must now be well aware of what an RGB strip light is, what an RGBIC light is, and their differences.
Hence, the main task is choosing the appropriate manufacturer for these lights.
You must select a manufacturer who offers you the perfect quality lights at a reasonable price so that you can always assure your customers that they are getting premium lights.
In this regard, you must look into Potato Lighting, and here you will find plenty of options for choosing the best led strip lights.
These strip lights are available in various styles, sizes, and varieties and are of premium quality.
Since Potato Lighting has been supplying these lights for many years, you can always be assured that you will also provide your client with the right lights, and they will be more than happy with the product.
So, get in touch with us today and share your requirements with us so that we can assist you in the best possible way.