Facade Lighting
A facade is more than just an outdoor area, it reflects the personality of an architectural design and that of the user. And that is why I always recommend facade lighting for commercial and residential edifices. Facade lighting perfectly highlights the architectural design of a building. The amazing structure of a construction pops out, giving the building a graceful and defining look. Not just the building but the surrounding as well right from the entrance. Daylight brightness has limitations, but with facade lighting, a structure gets stunning night light illumination.
Architectural lighting application is dynamic; there are numerous ways to use lighting options to get an excellent nighttime illumination. You can achieve a twin goal of brightening and decorating an outdoor architectural layout in any tone of choice.

Is Facade Lighting Important
Yes, it transforms a boring, dull, or ordinary front area into something breathtaking. You can highlight any eye-catching design and make it stand out. You can add elegance to a commercial edifice to make a statement or create an impression.
I like to tell lighting contractors that facade lighting is not one-way traffic. One design does fit all. Each type of design needs a unique approach/style to get the best result. What I'm saying is that various facade lighting designs are applicable in different situations. Let me show you some.
Solid Surface Facade
A solid surface is smooth and uniform. It's a plain wall surface with no pillars or demarcation on it. A facade like this is best illuminated from the floor or at an elevated position. From the floor, a floodlight will do the trick, but you can use a mast or wall downlight for illumination at an elevated position.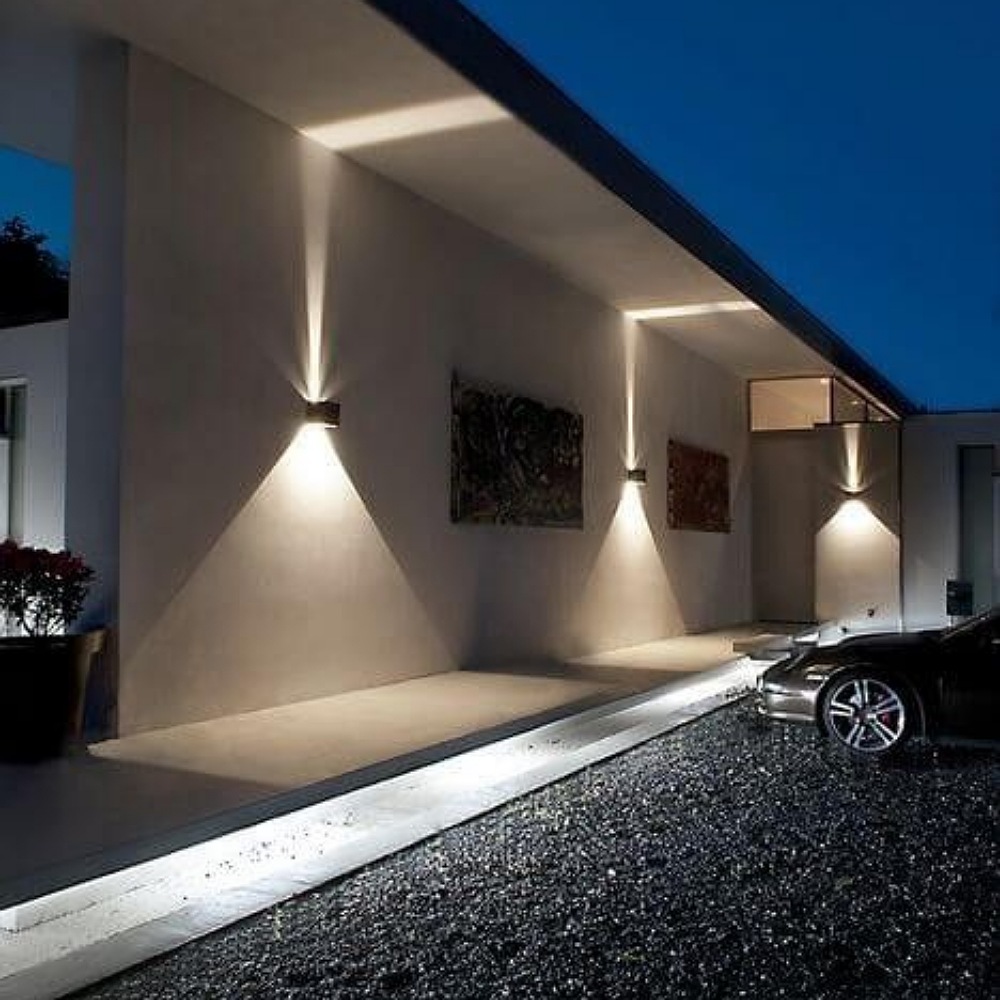 Divided Facade
A divided facade has a pillar partition either vertically or horizontally. A vertical partition forms columns on a facade. and uplights are often recommended to create column illumination. Floodlights can also work on horizontally divided facades.
Patterned Facade
For a facade with rectangular or square-shaped windows, daylight illumination gives a good idea to replicate at night; during the day, the windows appear dark while the outer part of the wall is bright. At night, the windows are illuminated from the interior but the outer wall remains dark, enabling the contrast to do its magic. I recommend Flex neon or LED strips for this type of grid design.
Further Lighting Suggestions for Facade
Recess Lighting
One lighting approach is recess illumination if you can't fix lights directly on the facade. I always suggest you create illumination by using light in the recesses. Surprisingly, this lighting method works well with all major types of facades.
You can use linear wall washers and linear LED lights in areas such as windows. This area becomes the only bright spot while keeping the real facade dark. This contributes to the building's intriguing contrast pattern. You may say it's common in many buildings, but it works perfectly in outdoor areas with low ambient lighting.
One of the most typical LED luminaires utilized as facade lights are wall lights. They are mounted on the external walls to emit narrow light beams. In my experience, wall lights can be utilized to highlight the building's symmetry or to create intriguing patterns. Here's a little secret; wall lights provide a glare-free downlight distribution. It's best to install LED wall lights to get distinct brightness and low energy consumption.
Neon Flex
The use of neon flex light in the exterior of the building is a new approach. I can't accurately and adequately describe the charming and unique result of using neon flex. It enhances the outlook of an architectural design illuminating distinctly and colorfully especially when you use an RGB neon flex. Neon flex amplifies a construction style, showcasing the contours and edges. Neon flex can be carved into shapes; to write a text, form a logo, or just about any pattern of choice. Let me give you an exclusive — try to pair neon flex with led linear wall washer light. This is a complex but striking facade lighting. As in the image below, the neon flex outlines the contours while the wall washer serves as the backlighting.
For all outdoor lighting, the neon flex has more application in facade illumination. If you run a commercial center like a store, hotel, or if you are a lighting contractor for a firm, LED neon sign is what I would recommend. Neon signage achieves a twin goal of beautification and communicating a message. Its flexibility allows you to form letters and shapes as depicted in the image below.
Like I mentioned above, LED neon flexibility and multi-color option in the RGB version makes it ideal lighting to highlight the edges/contours of an architectural design, create logo or text designs, wall surfaces, and the perimeter of an entrance.
Important Properties of Facade Lighting
Let's say you've found suitable facade lighting, what are the important features to look at before making the final decision. Let me show you some important features:
Waterproof
Facade lighting is outdoors and as such exposure to rainfall and dust is inevitable. In this situation, weatherproof capacity is important to every type of facade lighting you intend to use. I recommend IP67 rated lighting for this purpose. If you are using round wall mount down-light & up-light, wall washer, LED neon flex, or any type of linear lighting, ensure it's IP67 rated for outdoor use.
UV and High-temperature Resistance
UV radiation and high temperature decrease the longevity of outdoor lighting. It's therefore important to look out for UV-resistant outdoor lighting equipped with a heat dissipation system. This prevents excessive heat within the lighting and discoloration of the light emitted.
Dimmable System
Facade lighting may need to be dimmed in certain settings to get the best result. The peripheral lighting may be too bright or the design may require creating a contrasting brightness. Whatever the case, dimmable lighting makes any form of design easy to achieve.
Top-quality Design
Above all, a trusted manufacturer of facade lighting is imperative to get great outcomes. A trusted source of LED neon flex and wall lights like Potato-Lighting guarantees top-quality lighting products. For example, you get a 5-years warranty, waterproof LED driver and LED controllers when you make a purchase.
Based on the project, you can request for single color, RGB, and RGBW flex neon, and other types of faces. Lighting. Also, get top systems like the DALI dimmable system or DMX system. I recommend you check out Potato-Lighting to obtain an assortment of facade lighting.