LED strips are indeed powerful decoration tools for any project. These strips are used worldwide for multiple applications. LED strips are flexible, vary in length, and easily customizable. These are excellent for indoor and outdoor decorations with waterproof abilities. Waterproof LED neon strips are popular for multiple commercial and residential applications. This ultimate guide will help you to choose suitable waterproof LED strip lights for your project.
Are there Waterproof LED Light Strips?
Yes, there are waterproof LED strips. LED IP ratings are used to manufacture these waterproof LEDs. IP (Ingress Protection) is used to measure the protection against water, dust, and moist e.t.c. The waterproof capabilities of the LED strip depend on their IP rating. An IP rating consists of two numbers.
The first number indicates the protection from solids like dust particles, sand e.t.c. The first number ranges from 0-6. While the second number indicates the protection from fluids like water. The second number ranges from 0-8.
If you wish to buy waterproof LED strips. Then you should be aware of the IP ratings. All IP ratings for waterproof LED strips are not the same. Even a small change in the number of IP rating matters a lot. So before buying waterproof LED strips, you should check their IP rating.
This table shows the protection levels of LED strips against solids and liquids.
It is clear from the table that low IP ratings are suitable for indoor applications without water involvement. Whereas the high IP ratings can be used for a variety of outdoor applications and wet locations.
Which IP Rating Is Best?
Nowadays, there are LED strips with different IP ratings on the market, as different ratings are used in different applications. The following are the Top4 popular IP rating LED strip lights in the market:
The following are the most popular IP rating in the market: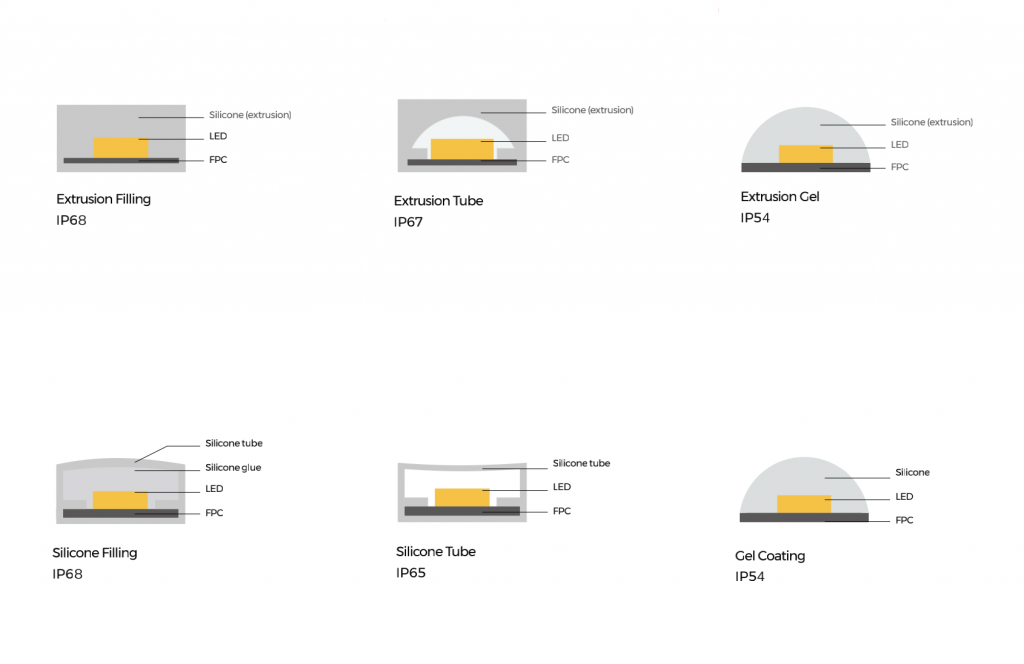 IP54 LED Strip
The IP54 LED strip is mostly mainly in the form of the glue coating process, like silicone coating. The IP54 LED strip is perfect for indoor use and also for some moisture places. It is also effective against dust particles to prevent LEDs exposed.
Many companies sold IP54 as IP65 in earlier years in the market. It's already the classic model in the market. At the beginning of the market, mainly companies use PVC or fake PU glue to do waterproof, Which is easy to oxidation, yellowing. Now the high quality led strips are mainly used with the silicone coating process.
IP65 LED Strip:
The IP65 LED strip uses the silicone tube against dust tides and low-pressure water spurts from different directions. But these are not made for underwater use. So, IP65 is useful against low-pressure water sprays but not for underwater applications.
IP67 LED Strip:
The IP67 strips are mainly in the form of extrusion sleeves. The IP67 LED strip is 100% protected against dust tides. It can be used at an underwater depth of 3 feet for almost 30 minutes. So you can use LED strips with an IP67 rating for underwater applications. But only for a limited time. The LED neon strip is another popular type of the IP67 LED strip. If you are looking for IP67 underwater LED strips. Then checkout LED Neon Strip with an IP67 waterproof rating.
IP68 LED Strip:
The IP68 LED strip is mostly mainly in the form of the glue filling process, like extrusion silicone filling, PU filling. It is 100% protected against dust particles. Also, it is fit for the underwater environment of about 4-meter depth. So you can use IP68 waterproof LED strip lights for underwater applications. Eg: pool decoration, boat decoration e.t.c.
Confusion Between IP54 and IP65
You should be aware that many manufacturers and companies use IP54 rating and label it as IP65. That's incorrect and unprofessional. There is a big difference between their features and designs. Here are a few tips for you to identify those differences.
The first thing you should know is that the IP54 rating uses a glue coating. Whereas the IP65 rating uses silicon tubes. For the IP54 LED strip, you can easily find that the backside of the FPC isn't protecting by the glue coating. They are suitable only for places that are distant from water. While the IP65 waterproof LED strips are useful against dust tides and low-pressure water jets.
What is Extrusion Process?
The extraction process is used to cover the LED strips with a protective casing. Many manufacturers use PU (Polyurethane) or PVC (Polyvinyl chloride) material. But using silicone material is better. Because silicone is hard to get oxidized (yellowish) and can last longer.
The extrusion process makes LED strips more durable to water, moisture, and dust. So, the extrusion process is more effective than other covering processes. Here at POTATO LIGHTING, we provide waterproof LED strips carried through the silicone extraction process. Below a short video to share how our factory produces the led neon strip, to let you know a little more about how the extrusion silicone process going.
The extrusion process is different for every IP rating. You can clearly see the silicon extrusions for different IP ratings of LED neon strips in the below image.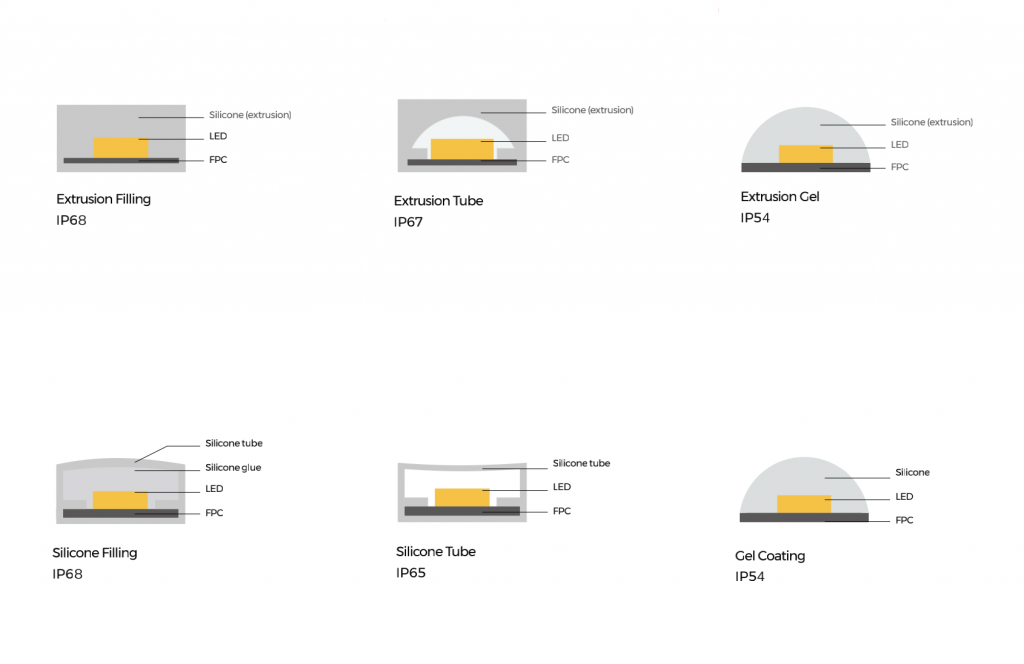 This will help you to further understand the IP ratings of waterproof LED strip lights. The silicon extrusion will help you to identify the IP ratings correctly. So you will be able to choose the perfect waterproof LED neon strips for your project.
Silicon Extrusion Is Best?
Yes, the silicon material is best for the extrusion process to make LED strips waterproof. Modern silicon extrusion is comprehensive than other traditional methods like filing, dipping, or manual casing. This extrusion provides more ingress protection, endurance, and better appearance.
Integrated Extrusion
The integrated extrusion molding technique is used for silicone extrusion of LED strips. This new technique is far better than the old labor techniques (the below video is showing an IP65 silicone tube with manual solution), the old glue filling process for waterproof led strip. These LED strips are better in performance and appearance.
The integrated silicon extrusion is better than other extrusions because of its amazing features. These features are:
Resistant From Extreme Weather
The waterproof LED strips carried out by integrated silicon extrusion are indeed best for extreme weather. They are anti-oxidizing and resistant to saltwater due to silicone coating.
No CCT Shifts
In traditional extrusion methods, the waterproofing of LED strips increases their color temperature. The color temperature of LED strips increases as the IP rating is increased. Eg: the color temperature of a led strip is 3000K at IP20 and increases to 3500K at IP54.
But in integrated silicon extrusion, the color temperature of LED strips don't change. So after waterproofing, the light of the LED neon strips remains the same.
Waterproof Connectors
The waterproof LED strips carried out through integrated silicon extrusion comes with waterproof connectors. So, you can cut the LED strips according to your requirement. Every waterproof LED strip has a cut mark. So always use sharp scissors to cut from that part. Then connect them by using waterproof sold-free connectors. This will make them more customizable.
Longer Length
LED strips made from the integrated silicon comes with up to 50 meters per reel. This extrusion method made LED strips to work with longer lengths. You can use the 5-meter reel (basic version) of LED strips for small projects. While you should use a 50-meter reel (ultra-long version) for big projects.
Applications Of Waterproof LED Strips
The waterproof LED strips are widely used in various indoor and outdoor applications. The range of applications can be changed by changing the IP rating. These LED neon strips are safe and cool to touch. Moreover, these LED strips consume less voltage and power. So they are excellent for projects with limited resources and power supply.
Some most popular applications of waterproof LED strip lights are:
Suitable For Wet Locations
The waterproof LED strips are comprehensive for wet or humid locations like kitchens and bathrooms. The IP54 and IP65 waterproof LED strips will best fit this application.
Protective Outdoor Decoration
The waterproof LED neon strips are reliable and safe for outdoor decorations of homes, buildings, shops, trees, and bushes e.t.c. The IP66, IP67 and IP68 waterproof LED strips are perfect for outdoor decorations.
Boat Decoration
The IP68 waterproof LED strips are optimistic for the decoration of boats. They are 100% waterproof with a longer lifetime.
Swimming Pool and Fountain Decoration
The modern waterproof LED strips are effective and long-lasting for underwater decoration like swimming pools and water fountains. The IP67 and IP68 waterproof LED strip lights are the best options for these types of applications.
How to Install the Waterproof Led Strip?
The installation process of waterproof LED strips can be different depending on the IP ratings. Normally, a 3M tape is stick on the back of IP54 waterproof LED strips for their installation. Other IP ratings like IP65, IP67, and IP68 can also be installed using 3M tape.
This installation process is much easier for you. You just have to stick this tape on the back of the waterproof LED strips. Then you can easily install them almost anywhere you want.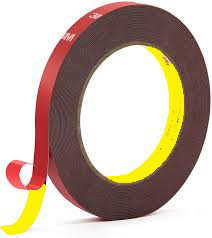 But most popular installation methods for IP65, IP67, and IP68 are silicone clips and aluminum channels. The silicon clips and aluminum channels are more useful for the underwater installment of LED strips. These are more last longing than 3M tapes. Moreover, these clips and channels are easy to install.
The clips and channels are available in different shapes and sizes. So you can easily install your waterproof LED strips. Silicon clips and mounting channels assist you to install LED strips anywhere.
Summery Of Ultimate Guide
The waterproof LED strip lights are great for indoor and outdoor decoration. But you have to check the IP ratings to choose the appropriate waterproof LED strips. It is better to choose LED strips carried out through the integrated extrusion process. Because these LED strips have more advantages in terms of waterproofing, length, and anti-yellowing. These LED strips are used in a variety of applications. Including, the decoration of bathrooms, swimming pools e.t.c. Moreover, you can easily install them using 3M tapes, silicon clips, and mounting channels. So, waterproof LED strips are wonderful for your projects.